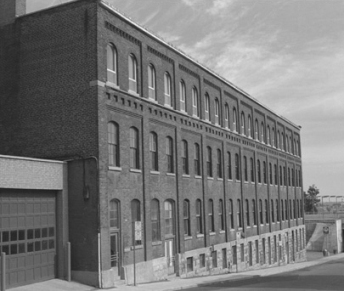 1920s
In 1921, in Montreal, 25-year-old Henry Lloyd Blachford  (pictured above, highlighted in blue) founded a sales agency for chemicals used in the rubber, paint and ink industries, including pigments, dyestuffs, carbon blacks for rubber and drying rolls.
1930s
In 1936, H.L. Blachford began manufacturing aluminum and zinc stearates, making it the first company in Canada to manufacture metallic soaps. The original manufacturing facilities were located in the St. James Street area of Montreal. One year later, operations were moved to a building on Lucien-L'Allier.
1940s
During the war years, most raw materials were rationed unless the finished product was valuable to the war effort. Following the end of hostilities, Blachford secured important license agreements with Quaker Chemicals Corp. and Atlas -Minerals & Chemicals for chemical resistant grouts, mortars and membranes. We also forged several chemical distribution agreements with firms in the U.S. and the UK.
Blachford also began manufacturing rubber and paper chemicals, as well as bronze powders used for labels and book bindings.
1950s
Blachford established a Toronto sales office early in the decade in order to better service steel mill customers requiring rolling oils and other such products.
Manufacturing facilities were established in Toronto in 1957 when Blachford entered into a license agreement with Standard Industrial Compounds Corp. in Frankfort Illinois, to make powdered wire drawing lubricants.
1960s
In 1960, Blachford became active in the United States under the name H.L. Blachford Inc., where we began manufacturing and marketing noise control materials. Within a few years, plants were built in Troy, Michigan, Corona, California and West Chicago, Illinois.
In 1966 Henry's son, John, joined the company as a chemist and soon took on the role of R&D manager.
1970s
Blachford entered into the production of heat stabilizers for PVC under a license agreement with Barlocher GmbH.
In 1974, a large new plant with offices and a laboratory was constructed in Mississauga. To this day most of our products used in the production and forming of steel sheet are made at this plant, including lubricants, corrosion inhibitors and hydraulic oils.
In 1978, John Blachford became President of all Blachford businesses.
1980s
In 1982, At the 54th Academy Awards, hosted by Johnny Carson, H.L. Blachford was presented with the 1982 Technical Achievement Award by The Academy of Motion Picture Arts and Sciences for the development of the Baryfol (now Barymat) sound barrier
In 1987, Henry Lloyd Blachford died within a few weeks following his last day in the office.
In 1989, a new company, Blachford Corporation, was established in Frankfort, Illinois where we manufacture a wide range of lubricants used by wire manufacturers.
Also in 1989, H.L. Blachford Inc.(USA) including its three plants was sold to a German company, Stankiewicz GmbH.
1990s
In 1991, Blachford Corporation entered a license agreement with German firm DOG mbH&Co KG for process aids for rubber.
In 1995, Blachford reacquired the West Chicago plant, equipment and other assets which had been sold to Stankiewicz in 1989. A new company, Blachford Inc. was created.
Blachford purchased the rubber anti-tack business of Namico Inc and the operation was moved from Philadelphia to Montreal and Mississauga. We also entered a license agreement with Zeller+Gmelin for lubricants for drawing copper wire and several other product lines.
2000s
In 2001, Blachford signed a new licensing agreement with Quaker whereby Blachford agrees to manufacture but not directly sell chemicals earmarked for the steel companies.
In 2002, Blachford bought the assets of a failed rubber floor mat manufacturer and formed a new company, Blachford RP Corporation. A new manufacturing plant was built in Kings Mountain, NC. The move expanded Blachford's line of acoustical products to include cab interiors.
In 2003, The Blachford Acoustics Laboratory was completed in West Chicago, Illinois. It was the first lab of its kind in North America and established Blachford as the acoustical technology leader on the continent.
The original Zeller & Gmelin and DOG agreements were discontinued in 2006 but Blachford continues to manufacture both product lines in North America.
In 2008, Blachford purchased the JemPak Ltd. metallic soap business and moved production to the Mississauga plant.
2010s
In 2013, Blachford purchased the assets of PresGlas, a well-known manufacturer of molded headliners and trim. The new company, Blachford AM is located in Cambridge, Ontario. The acquisition expanded Blachford's product offerings for acoustical materials in cabs.
In 2014, Blachford created the Blachford Acoustics Group, combining four complementary Blachford businesses in order to more efficiently provide integrated acoustical solutions (noise control materials, floor mats and headliners/trim) for customers throughout North America.
In 2014, Blachford acquired TMAT Acoustic Technologies (now Blachford UK Ltd.), the leading producer of molded polyurethane floor systems and other polyurethane products in the UK. The move was an important part of Blachford Acoustics Group's strategy to provide acoustical solutions to customers who have facilities in both NA and Europe.
In 2017, Blachford UK Ltd. acquired special vehicles division from the Administrators of the Hodgson & Hodgson Group (H&H).  This acquisition expanded Blachford Acoustics Group's product line of acoustic and thermal materials.
In 2017, H.L. Blachford Ltd. acquired the slab dips & coatings business of Memphis Solutions Company, a subsidiary of The Hallstar Company.
2020s
In 2020, H.L. Blachford Ltd. acquired the assets of Markee International Corporation, expanding Blachford's offering of environmentally responsible and productivity enhancing lubricants for pre and post sintering powdered metal applications
In 2021, Blachford celebrated the 100 year anniversary of parent company, H.L. Blachford Ltd., being established.
In 2022, Blachford acquired the assets and Intellectual Property of Melet Plastics Fargo, ND, a manufacturer of blow molded parts made of natural fibers.  The equipment and business has been moved to Blachford AM Ltd.
In 2022, Blachford acquired Milcut Inc., a full-service fabricator of foam, rubber, plastic, and high-temperature materials located in Menomonee Falls, WI.  With this acquisition, Milcut joined the Blachford Acoustics Group